Dr. Lisa Garner Santa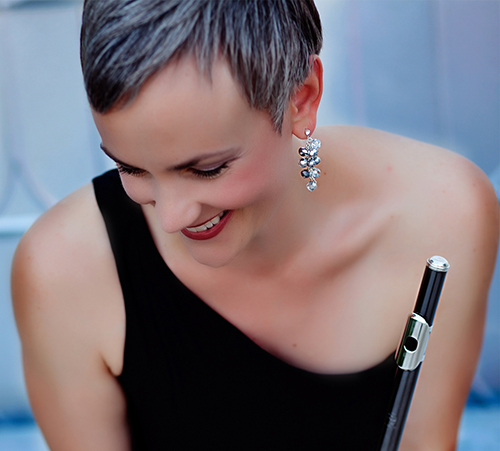 Lisa Garner Santa currently serves as Artist-Performer and Professor of Flute at Texas Tech University where she enjoys a diverse career as teacher, recitalist, soloist, and chamber musician. Garner Santa's playing has been described as "the kind of tone I prefer - rich, colorful, perfectly in control, and always in tune. Her phrasing is all well-shaped and thoughtful...a truly remarkable artist with dazzling musical ability." (American Record Guide)


Lisa Garner Santa's versatile programming ranges from the elegant Baroque music of Bach to the jazz-inspired writings of Mike Mower. Her passion for contemporary flute repertoire was sparked over a decade ago by the early flute works of Lowell Liebermann, which was the topic of her dissertation. Since then, she has supported the effort to expand and promote new music by performing and commissioning works from young as well as established composers including Warner Hutchison, Matthew Santa, Mike Mower, Joel Puckett, Derek Bermel and Peter Fischer.




As a pedagogue, Lisa Garner Santa presents masterclasses throughout the United States and abroad. International exchanges include masterclasses at the Royal College of Music in London, England and Victoria University in Wellington, New Zealand, as well as Peking University in Beijing, China. Presentations and performances at various regional and national conventions include invitations from the Texas Music Educators Association, the Texas Music Teachers Association, the National Association of Wind and Percussion Instructors, and the College Music Society. Her research, pedagogical articles and interviews are published in The Flutist Quarterly, The Flute View, Flute Talk, and The Instrumentalist.




In recognition of her creative teaching, she was awarded the Texas Tech Big 12 Fellowship, the Texas Tech Alumni Association New Faculty Award, and the President's Excellence in Teaching award. She is also an Executive Council member of Texas Tech University's prestigious Teaching Academy and a graduate of TTU's Institute for Inclusive Excellence.




As an active member of the National Flute Association, Dr. Garner Santa has been a featured performer at the numerous conventions. She has served as adjudicator and/or coordinator for many NFA events and competitions including the High School Soloist Competition, the NFA Newly Published Music Competition, the NFA Professional Flute Choir Competition, as the General Competitions Coordinator, and as NFA Convention Associate Program Chair for the 2002 convention. She served the NFA as Program Chair for the 2011 convention held in Charlotte, NC followed by two years on the NFA Executive Committee.




With co-authors Matthew Santa and Thomas Hughes, Lisa Garner Santa developed the Flute/Theory Workout, a method that efficiently introduces full-range scalar and chordal flute technique while introducing music theory fundamentals at the same time. The Workout, which comes with an entertaining accompaniment CD, is available through Carolyn Nussbaum Music Co., and Flute World. Dr. Garner Santa holds performance degrees from West Texas State University, Florida State University, and The Shepherd School of Music at Rice University. Her teachers to whom she is eternally grateful include Carol Wincenc, Charles DeLaney, Sally Turk, and Helen Blackburn. Additionally, Dr. Garner Santa is a certified Professional Yoga Instructor through the Kripalu Center, directs Yoga Shala Lubbock, and teaches Yoga and the Creative Arts: Philosophy and Practice, a core curriculum course at TTU. Visit

lisagarnersanta.com

.




Lisa Garner Santa is a Wm. S. Haynes Ambassador/Clinician.